What is a hallmark and why have it?
Posted on
The dictionary defines a hallmark as "a mark stamped on articles of gold, silver, or platinum by the British assay offices, certifying their standard of purity."
Hallmarking was introduced in the UK as far back as 1300 as a form of consumer protection to ensure that the item met the legal standard for that precious metal. As precious metals are very expensive, there is a huge opportunity for fraud (use of a lesser standard of material or even plated), and this method not only protects the public but also the honest suppliers. You should always be wary of jewellery that is being sold much cheaper than everyone else. It is that price for a reason – be warned!
There are now only four assay offices in the UK: Birmingham (which I use), Sheffield, London and Edinburgh.
Although I make beaded jewellery, I do incorporate beads and end fittings made from the precious metal silver, and when that piece of jewellery contains 7.78 grams of silver or more, it is sent to the Birmingham assay office for testing. Once they are happy that it is made to the right standard, it is then stamped with the hallmark, which consists of:
Makers mark, which for me is 'JW'
The standard of fineness
The assay office mark, which is an "anchor" for Birmingham.
The Hallmarking Act 1973 states that all dealers supplying precious metal jewellery shall display a notice explaining the approved hallmarks. If you can't see it, ask the dealer to show it you.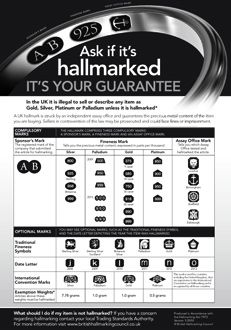 This subject is well documented on the Birmingham assay office website and makes for interesting reading.
Julie x