Photographs can be deceiving and you may think the item you are ordering is smaller or bigger than it actually is. All the jewellery on this website has dimensions quoted so please ensure you check the item is the size you want before ordering.
N.B. As most of the jewellery is handmade by myself, it may be possible to alter the length of the pieces to make them longer or shorter as required. Dependent on stock, I may have spare beads or can supply an extension chain. Please contact me for a price.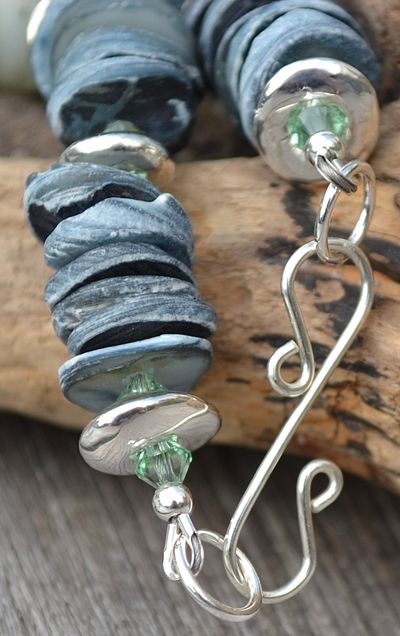 Choosing your Jewellery
Unless you are buying cheap, fashion jewellery your jewellery should be chosen wisely to maximise on the cost. If you consider the following when buying a piece of my jewellery you shouldn't go far wrong:
Are you purchasing your jewellery for a special occasion and want it to be versatile enough to wear afterwards, and do you want it to last for years to come? If you are, now is a good opportunity to invest in a piece of jewellery that can be worn again in the future, and if carefully chosen can be thought of not as an expense but as an investment.
It is important to balance your jewellery and not be tempted to go overboard. If all the jewellery you wear is stunning, then each piece will be fighting for attention and will divert attention away from you. If you choose a statement necklace, balance it out with a simple outfit. Regardless of your choices, you need to be comfortable. Don't wear anything that clashes with your personality and personal style.
Are you a person who likes jewellery sets, i.e., matching necklace, bracelet and earrings? If you buy a jewellery set you know you will get matching items that have been designed to look good together. I, personally, like individual pieces for their uniqueness but this can create more of a challenge when combining different pieces of jewellery together, particularly if they are statement pieces. If they are, the secret is to balance out these pieces with other simple, complementary pieces.
Make sure the colours are right for your outfit and your skin tone.
For Tips on Choosing a Necklace click here.
For Tips on Choosing a Bracelet click here.
Jewellery Care
It is normal for silver jewellery to tarnish over time as it reacts with sulphur in the air. Many chemicals such as perfume and hairspray, cleaning products, chlorine etc. may cause the jewellery to tarnish more quickly or discolour it so try and avoid getting it in contact with chemicals, and it is recommended that you remove your jewellery whilst bathing, exercising or sleeping.
Light tarnish is easily removed by using warm soapy water and brushing gently with a soft old toothbrush. Rinse in cool water and dry carefully with a soft cloth (only use very soft cloths as rough ones may scratch your jewellery). Alternatively, use a silver cloth (a soft cloth impregnated with silver dip) to finish cleaning and polishing your jewellery if necessary; remember to keep the silver cloth free from dirt and grit that may scratch the jewellery.
Care should be taken to store your jewellery separately from other items of jewellery as any direct contact may scratch the surfaces. It is recommended that the jewellery is stored in the box / bag it was supplied in.
For suggestions on how to style Julie Walton Jewellery you may want to follow the board 'Accessorise the outfit' on Pinterest.
Accessories are an opportunity to express our own personality and style when wearing an outfit. This board is a collection of tips and ideas to help make the right choices.