As the wedding season approaches....
Posted on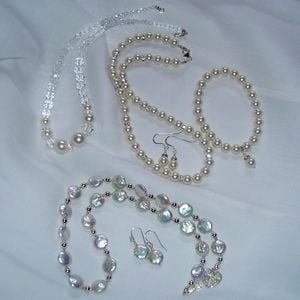 As the wedding season approaches, so does summer. White has always been the favourite for wedding dresses, and continues to be. If you're in the final stages of planning your wedding your thoughts will be turning to the finishing touches for the big day. So what could be more apt than to purchase a piece of my handmade jewellery to match your dress? White freshwater pearls, Swarovski crystal pearls, Murano glass hearts or simply silver in so many designs – necklaces, pendants, bracelets and earrings.....
My jewellery is classic yet contemporary, and will last for many years to come. Not only will it be ideal for the big day, but it can be worn afterwards with linens, jeans, chiffon, evening wear....the list is endless.
And what about the bridesmaids? Why not also consider a piece of my jewellery as a gift for them. The Children's Birthstone bracelets are ideal for the younger bridesmaids, and many of my other pieces of jewellery, including the Murano Hearts and Swarovski Crystal Pearl pendants, ideal for the older ones.
Let's not forget the Mother of the Bride, and other wedding guests. Team your outfit up with a Swarovski Crystal Pearl and Crystal Rondelle bracelet with matching pendant and earrings. The pearls and crystals come in a wide range of colours (I only have a few available in the shop at present but ask, and I can get other colours). Ironically, the Swarovski Crystal Pearl pendants came about as a result of my Sister-in-Law, the Mother of the Groom, wanting a necklace to match her dress and other pieces of jewellery. The pendant, in Night Blue, looked fabulous on her, and so many people commented on it, that I decided to make more in other colours.
Regardless of your decision, enjoy the big day.
Julie x