New Murano glass Beads purchased
Posted on
I bought some lovely, new Murano glass hearts yesterday. What do you think? They are such beautiful colours aren't they, and I can't wait to start making them up.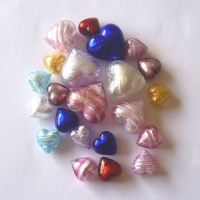 The main reason for buying them is that a very good friend of mine is having a Jewellery Party for me early November and suggested that I have a selection of charms available, as they will make nice, inexpensive Christmas presents, especially for those people that already have the fashionable bracelets with a charm carrier fitted. This means that with a neutral coloured bracelet, you could have a selection of charms to suit different coloured outfits, particularly as the Murano glass beads come in a myriad of colours and a variety of shapes. Yesterday, I only purchased the hearts but on reflection, maybe I should have bought some of the other shapes too! They could also be hung on the more traditional Sterling Silver charm bracelets, and if you had one of each colour the bracelet would go with any outfit, and what a talking point!
Did you know that Murano glass is handmade on the little island of Murano in Italy close to Venice, and is some of the most beautiful in the world? Click here to find out more.
I already have a selection of Murano glass heart jewellery (pendants and earrings) for sale. Check out the Murano Hearts page on my website for the colours currently available.
Julie x