I won Cookson Gold 'Design of the Week' Competition
Posted on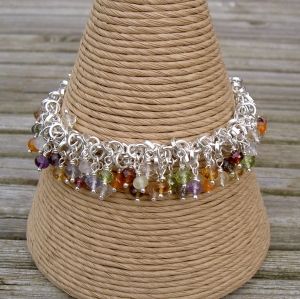 OMG I am so excited! A couple of weeks ago I happened to notice that Cookson Gold, a company I sometimes buy silver from were having a 'Design of the Week' competition and so I decided to enter with this wonderful bracelet I made for my birthday last year (hubby bought the silver, and his parents bought the gemstones). It is made from a multilink chain with around 100 Multi-Gemstone Faceted Rondelles (Citrine, Peridot, Aquamarine, Carnelian, Amethyst, Moonstone, etc, etc) attached to it, and I absolutely love it. It goes with anything and I wear it lots!
I was a bit dubious about entering the bracelet as I'd actually made it last year but I'd only just decided on what catch to put on it and had finished it that week so, hey ho!
Now, I never ever win any competitions, so imagine my delight when I received an E-Mail telling me I'd won! Not only that, it wasn't even a prize draw competition. It was one where people had actually liked my design.
The prize was a Dremel Versaflame, which means I now have the ability to solder my own links and hopefully create designs that I couldn't do before, so watch this space (although I need to master it first) and hopefully, I won't burn the house down!!
Julie x