Latest purchases from Rock 'n' Gem Fair, Newark
Posted on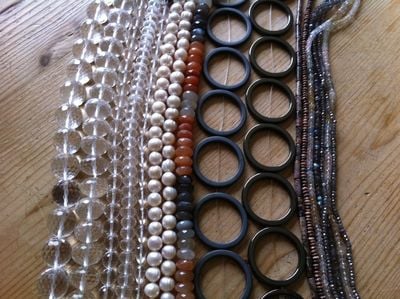 Last weekend I dragged the family to the Rock 'n' Gem Fair in Newark. As always, I was like a kiddie in a sweet shop and didn't know which way to turn first. Lots of amazing beads were subsequently purchased!
I was trying to be focussed on ones that could be used for Bridal jewellery as the lovely ladies in the Fabulous Wedding Boutique, Spondon that have some of my jewellery for sale, are opening another shop in Leek, a market town in the county of Staffordshire, and have asked me to supply that shop too. I am highly delighted as they obviously like what I make, and they're great people to deal with.
I have been really busy this week, making a necklace nearly every day, although I have to admit most of them are not for the Bridal shop, oops! What do you think? Do you like them?
Julie x